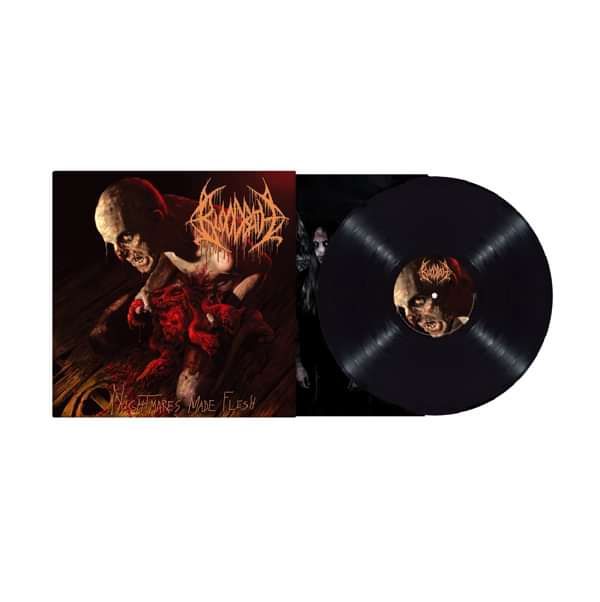 Bloodbath - 'Nightmares Made Flesh' Black Vinyl
Bloodbath is a titan of death metal from Stockholm, Sweden, notable for the inclusion of Katatonia and Opeth members and, in their recent era, welcoming Nick Holmes of UK doom legends Paradise Lost to join in with the brutality. Formed in 1998 with a mutual fascination for horror & the glory days of death metal from classic bands such as Entombed, Morbid Angel, Cancer & Autopsy, Bloodbath has remained a leading light of extreme metal since their 'Breeding Death' EP was unleashed back in 2000, and a formidable force for over 20 years, cemented in recent times by their 'Grand Morbid Funeral' (2014) opus and its follow-up, the even blacker-hearted 'The Arrow of Satan is Drawn' in 2018.

'Nightmares Made Flesh' was Bloodbath's second studio album, and was originally released in 2004. With Mikael Akerfeldt no longer on vocal duties, it was the chance for another metal legend to step in, in the shape of Hypocrisy's Peter Tägtgren, and with Dan Swanö now joining Anders Nyström on guitars, this was also the Bloodbath debut of Opeth's drummer extraordinaire, Martin Axenrot.

Considered quite an evolution or even departure from their debut, 'Nightmares Made Flesh' expanded on the melodic and technical elements and formed an album more complex in its scope, tempo, and rhythmic approach, and less a pure dedication to the old school scene. The album also utilised some influences more in line with metal from further afield compared to previous releases, whilst still firmly marking their own identity with hook-filled anthems such as fan-favourite, 'Eaten'.

'Nightmares Made Flesh' was recorded and mixed at Fascination Street Studios, with production duties carried out by Jens Bogren.


Track listing

Side A
1. Cancer Of The Soul
2. Brave New Hell
3. Soul Evisceration
4. Outnumbering The Day
5. Feeding The Undead
6. Eaten

Side B
1. Bastard Son Of God
2. Year Of The Cadaver Race
3. The Ascension
4. Draped In Disease
5. Stillborn Saviour
6. Blood Vortex

Cat number: VILELP980
UPC: 801056898012